With so much competition in onchain Perpetuals, it is very important that Mycelium continues to innovate and bring best-in-class features to products.
One such feature is Conditional Orders. Conditional Orders are those which will only be executed or activated in the market if certain criteria are met. Under Conditional Orders, Perpetual Swaps will support Stop Loss and Take Profit. A Stop Loss is a limit order that closes a position when it has suffered a certain amount of capital loss. A Take Profit is a limit order that closes a position when it has experienced a certain amount of capital gain.
Keepers will enable the the use of limit orders. Essentially, they will identify when the oracle price plus or minus the spread has surpassed an order's pricing conditions and execute the order. The fee for these orders will be more than a market order to pay for the keeper.
However, Conditional Orders are not guaranteed to be executed. This can occur in a few situations including but not limited to:
Insufficient liquidity to execute the order;
The mark price which is an aggregate of exchange prices did not reach the specified price;
The specified price was reached but not long enough for it to be executed; and
No keeper picked up the order for execution.
Additionally, Conditional Orders, once executed, are converted to market orders and are not guaranteed to settle at the trigger price. Being filled at the market price which will be better than or equal to the take-profit price, but, worse than or equal to the stop-loss price.
Instructions on how to use Conditional Orders can be found here: https://swaps.docs.mycelium.xyz/quick-start-guide/3.-how-to-trade-conditional.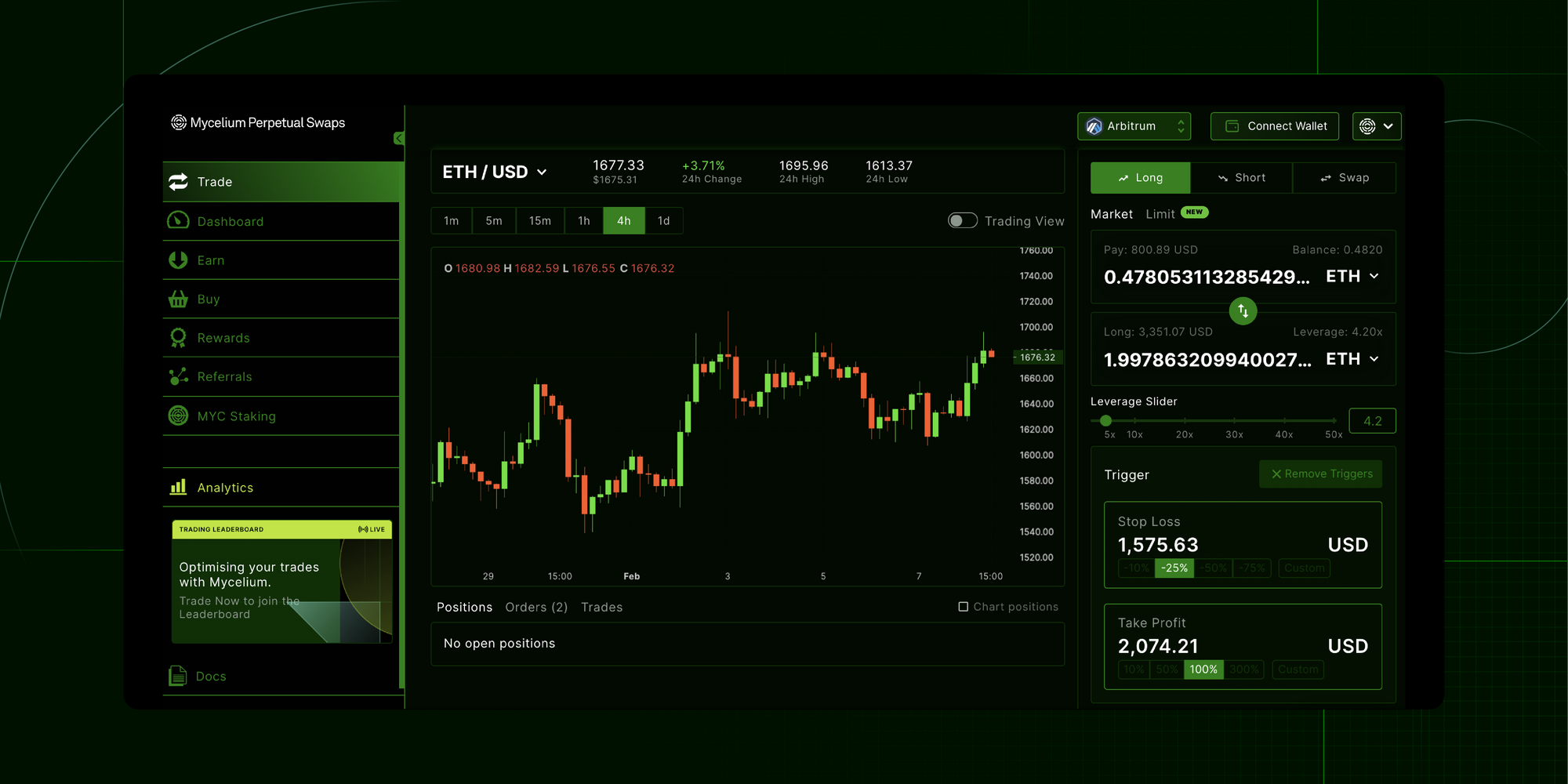 In traditional markets, due to depenedencies on brokerage, it is very difficult to trade high volatility assets in this way. Once again demonstrating the potency of trading onchain with smart contracts.
The team was inspired by the work of Gains, the Perpetual platform that recently joined the Arbitrum ecosystem, expanding beyond Polygon. With Gains, Conditional Orders are critical, since it is not fully collateralised. To determine the total potential loss, based on trader profit, they need to have a Take Profit feature. The parameter for the total loss helps determine the spread for trading assets. Any additional risk in trading, is socialised in the system with extra fees. With the spread changing every day.
With an abundance of options for traders and LPs, people are often requesting that Mycelium introduce best-in-breed features, and this adds another unique element. By enabling Conditional Orders, we expect the benefit to flow immediately to traders, who can spend less time watching candles, managing admin and orders, and more time working on strategies and doing research. For the LPs, with the changes in MLP composition, outlined here, can generate a more accurate, predictable and safer return for their capital.
Will other competing Perpetual Swaps platforms follow suit with Conditional Orders? Unlikely in the short term. Depending on the model, the impact to active orders could be too large a risk to undertake in attempting to migrate.
Please note that these services are unavailable if you are a resident of, reside in, a citizen of, incorporated in, or have a registered office in China, the United States, Antigua and Barbuda, Algeria, Australia, Bangladesh, Bolivia, Belarus, Burundi, Myanmar (Burma), Cote D'Ivoire (Ivory Coast), Crimea and Sevastopol, Cuba, Democratic Republic of Congo, Ecuador, Iran, Iraq, Liberia, Libya, Magnitsky, Mali, Morocco, Nepal, North Korea, Somalia, Sudan, Syria, Venezuela, Yemen, Zimbabwe.