The competition: The highest volume traded through a referral code wins.
The prize: $20,000 USDC in total prizes
The dates: 31st October 10am AEST - 16 November 10am AEST
Mycelium is launching a 2 week Referrals Trading Competition to spread the trading fever for Perpetual Swaps. Utilising a referral code on Mycelium Perpetual Swaps can provide up to 20% cheaper trading fees, and we want to see more traders access those benefits!
How to enter?
Generate, share, and start trading Perpetual Swaps on your referral code. Generate a code here.
Every referral code traded through the competition period automatically goes in the draw to win the $2,000 USDC Wild Card prize
How to WIN?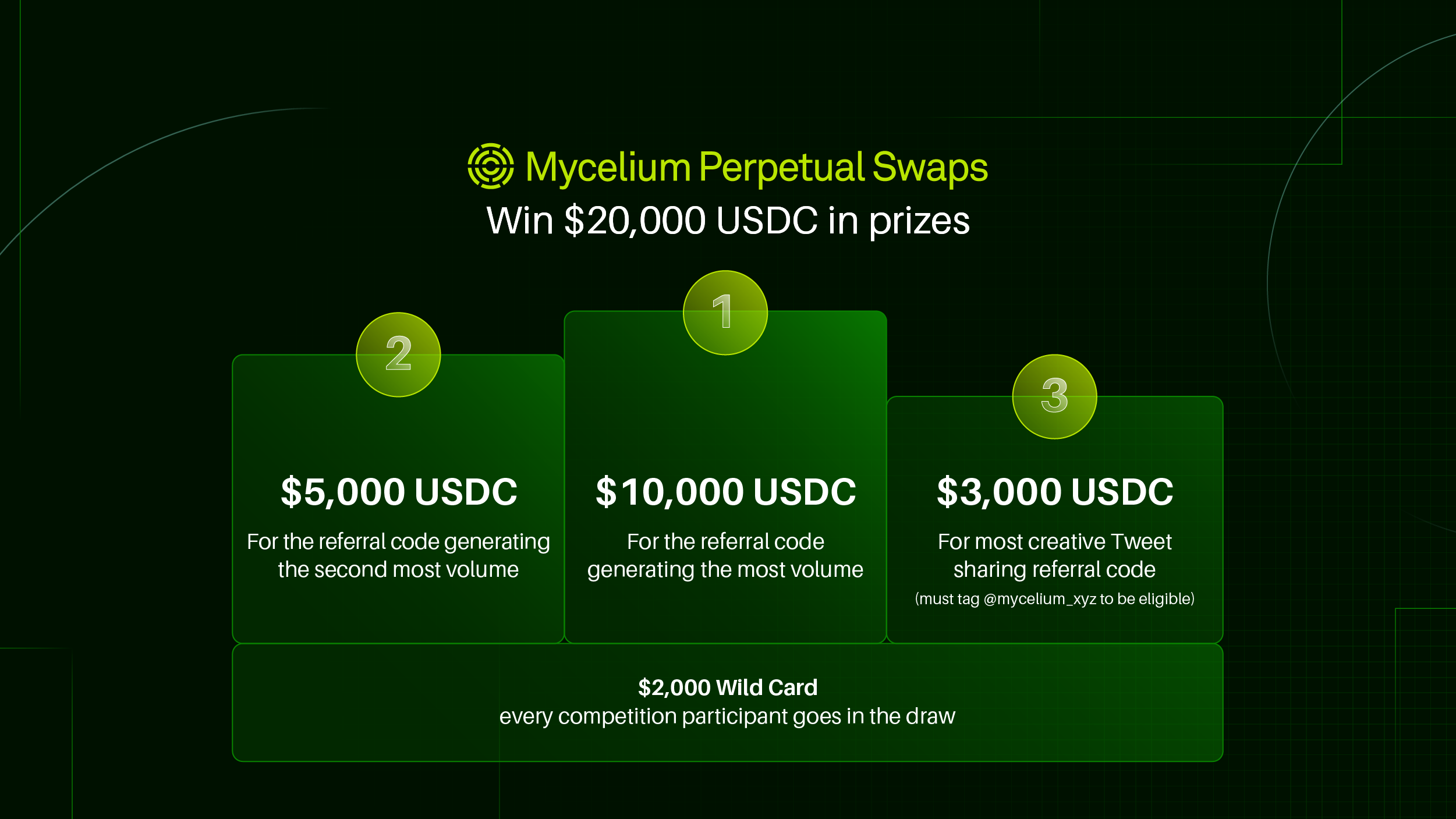 First prize = $10,000 USDC
The referral code that has generated the most volume over the competition period will take out top prize.
Second prize = $5,000 USDC
To the referral code with the second highest volume generated.
Third prize = $3,000 USDC
To the most creative Tweet sharing a referral code [Must tag @mycelium_xyz on Twitter, and keep the post live to be eligible]
Wild card = $2,000 USDC
Everyone who participates has a chance to win.
How our Referrals program works?
Anyone can generate a code here.
The mechanism is simple.
Referrers earn commissions from the trading fees generated by users of their code.
Traders using the code can claim a trading fee discount when using the code.
Referrers earn commissions, Traders claim discounts. Simple and effective by delivering an enhanced trading experience by putting money back in Swaps' user wallets.
The discounts are tiered by volume traded: 5%, 10%, & 20% off.
The full blog post on how our Referrals program works is here.
Terms and Conditions
All participants must comply with the Referral Competition Terms of Use, outlined here.